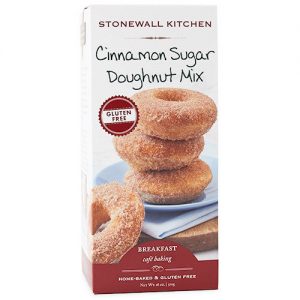 Hmmm, I really wanted to like these, as I'm a definite old fashioned doughnut fan… so sad.. and a huge fan of owner operator businesses. Ugh. I have worked in a bakery in a previous era of my life and have made more than a thing or two in my day.
Box says "we really couldnt tell the difference" between this and their non GF version… yeah, not sure about that! I found them gritty chalky and dense. My dad kept feeding them to the dog heheh (as I'm both chuckling and cringing simultaneously) – those are expensive critter biscuits!
I get the feeling the pix on the box is the reg kind, their GF is not that fluffy.
Feel free to give it a whirl if you're feeling adventurous, as everyone has different experiences but as with most GF stuff, it's a weighty price tag at $9 or $10 or so for a 510g / 18oz pkg. Worth it if you like it… but pricey to add to the mountainous ick pile of other deep pocket GF trial and errors.
I believe I found this at the Bulk Barn, which has a surprisingly interesting boxed section of GF stuff – mainly mixes. If you're looking for separate flours… they are phasing them out it seems. But they did have Kinnikinnick GF graham crackers and GF graham crumbs.
Save
Save
Save
Save