This recipe for us rises above the bread machine pan, and no wheat flour!
We use organic that we buy from a local Ontario farm, but either should work great.
Ancient Grains Bread Machine Recipe – Spelt Kamut – Wheat Free
1 cup lukewarm water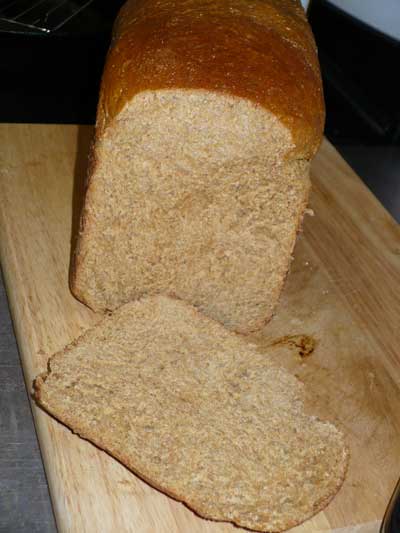 1 egg
2 tablespoons cane sugar (or brown sugar)
1 tablespoon apple cider vinegar
1 tablespoon molasses
2 tablespoons corn syrup (or honey)
1 1/2 cups whole spelt flour
1 3/4 cups light spelt flour
1 cup kamut flour
2 tablespoons malt powder (malted barley flour-see below for more info)
3 tablespoons becel margarine or butter
1 tablespoon yeast
2 teaspoons sea salt
Put ingredients in bread machine pan in order listed. Use the "light crust" 2lb  basic white cycle (& rapid cycle if avail) as spelt and kamut don't like to be over beaten or over baked.
The malt powder is important, because it helps the dough to rise.
Humidity will change the moisture content of the flour, therefore sometimes it may need a little more flour, and sometimes it may need a little more moisture.
Since we don't eat a whole loaf in a day, once cooled, we slice it up right away, and put it in the freezer. It will stay as fresh as the day it was put in. We usually use  it up within a week or two.
Malt Powder: it's malted barley powder (in the majority of cases, usually when it's malt powder it's assumed barley, but there are slim cases where it can be other)– although whenever it's bought in the store the tag just says "malt powder" – we buy at the health food store (or bulk food store)
From how I understand, the barley is soaked, germinated then quickly dried, and ground into powder (flour essentially). Often used in the brewing industry. (apparently it changes the starch to sugars which yeast loves sugar, so thus the help)
Malted milk powder apparently is derived by malt powder, but is very different
Spelt only – high loaf: Spelt Bread Recipe for Bread Machine
Farmhouse Spelt bread loaf recipe (like rye) : Farmhouse Spelt Bread Recipe
Print Recipe