This easy banana bread is a family favourite, and so simple, and can easily be doubled. It just so happens to also be a dairy free banana bread recipe, as we use oil, not butter. Always gets rave reviews.
Best Banana Bread Recipe: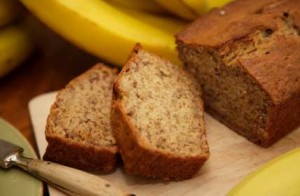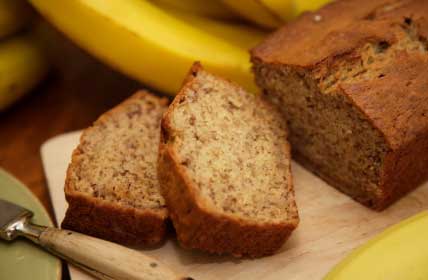 1 cup very ripe bananas (about 2 large)
1 cup cane sugar (or white or brown sugar)
1 egg
2 teaspoons pure real vanilla (important)
1 teaspoon clubhouse rum (grocery store)
1/2 cup milk
1/4 cup grapeseed oil (or safflower, olive oil, or melted butter)
2 cups all-purpose flour (or light spelt flour)
1 tablespoon baking powder
1/2 teaspoon sea salt (or reg salt)
For banana bread with chocolate chips, just add 1/2 cup to the batter after the flour, baking powder & salt combo.
For banana bread nut option , add 1/2 cup chopped nuts to the batter after the flour, baking powder & salt combo.
Method:
Add peeled bananas to mixer, and mix until mashed.
Add sugar, mix well.
Add egg, mix well.
Add vanilla, rum and milk, mix well.
Add oil, mix well.
Add flour,  and sprinkle on top evenly baking powder and salt. Mix until JUST blended (do not over mix)
Pour into loaf pan. Bake at 350°F for 55 – 60 min
until wooden skewer comes out clean
GREAT in stoneware loaf pan.
– if using pyrex or glassware, reduce oven heat down to 325°F
Cool.
This can be easily frozen by slicing into serving sizes and placed in either plastic zip bag or good quality plastic container. Then, just pull out the few slices you need at a time – thaws in about 10 min or so.
With using light spelt, we haven't found anyone who's been able to taste the difference.