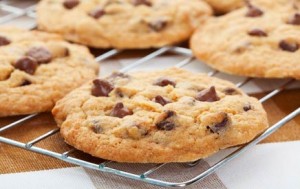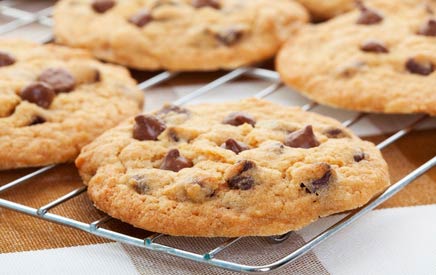 I made these on Friday, and was going to take some to a function – after the hubby ate four of them, he confiscated them such that they would not leave the building! Normally I would put up a fuss, but it's too hard to deprive a grown man of his new favourite cookies especially with so many foods he's allergic to… so often the family members watch everything get cooked and out the door it goes and they don't get to have any… so here's to making some for the family! (at home base)
Chewy Chocolate Chip Spelt Cookies
Cream together in mixer:
1 cup butter (or 1/2 cup butter and 1/2 cup lard)
1/2 cup grapeseed oil (or other mild tasting oil)
1 1/2 cups cane sugar (or 1 cup white, 1/2 cup brown sugar)
2 tablespoons liquid honey
2 large eggs
In separate bowl combine:
3 cups light OR white spelt flour (whole spelt will be a much denser cookie)
1 teaspoon baking soda
1/2 teaspoon salt
add to the wet mix
then add:
2 tablespoons (or more) pure vanilla extract
1 teaspoon clubhouse rum extract (grocery store brand) or 1 tablespoon real rum
1 cup coconut (or substitute with quick oats)
1 1/2 cups semi-sweet pure chocolate chips
Scoop out using 2 tablespoons size scoop (each cookie is 2 tablespoons of dough) – Looks like an ice cream scoop but slightly smaller.
We put 6 to a sheet approx 2 1/2 inches apart on parchment
Flatten each cookie with the palm of your hand
(wet your hand under water first, and shake off the excess, then flatten cookies – as dough won't stick to your hand when it's damp)
Bake at 375°F for approx  10 minutes – keep watching them as each oven temp varies
remove from oven slide parchment onto the racks let cool for 2 min, then transfer to alternate wire racks off the parchment using a flat lifter to continue cooling.
Makes approx 24 gourmet sized cookies.
Scrumptious Gourmet Cookie Variations:
For raisin cookies, simply substitute the chocolate chips for Thompson raisins + 1 teaspoon cinnamon  + 1/2 teaspoon nutmeg.
For double chocolate cookies add 1/2 cup good quality cocoa powder.
For triple chocolate cookies add 1/2 1/2 cup good quality cocoa powder AND 1 cup white chocolate chips.
For ultimate cookies add 1/2 cup good quality cocoa powder  AND 1 cup white chocolate chips and 1/2 cup peanut butter or skor chips.