How to Make Curly Fries: I was being lazy one evening, and mostly busy, thus didn't feel particularly like peeling potatoes. As I'm washing them, I look up and spot my sturdy hand cranked apple peeler/corer/slicer on the wall… hmmm… what the heck… so I plop one of those suckers on and voila! Curly fry heavenliness!
We didn't want all the fat of deep frying (or the mess), therefore, we baked them, just like we do our wedge fries.
This is our recipe…
Curly Fry Recipe: (Baked)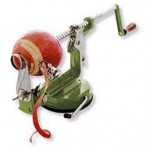 Wash 1 potato per person
Preheat oven to 425°F
Place on peeler/corer/slicer – and use the hand crank as directed on the machine.
After each potato sliced, spray with cooking spray, gently getting in-between all the little rings. (Lift it up like a Slinky(tm)  & spray)
Proceed with next potato.. repeat as necesary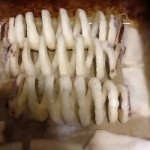 Place on a heavy baking sheet or stoneware each potato – layed  out so that air can circulate around each one (easier than it sounds)
If thrify – slice the potato "cores" in half, spray, and bake along side the curls.
Season with paprika based seasoning salt ie: Prud'homme's or Lawry's (we make our own inhouse)
Bake for 30-45 min – depending on oven… until cooked (not raw) and crispy.
Remove from oven
If unseasoned – sprinkle with sea salt or mountain salt.
Enjoy!
Wed stay with the oven in the same room, as it's such a high temperature cooking.
We bought the apple peeler/corer/slicer at our local Home Hardware (Hi Jim!).
We haven't tried this with sweet potatoes yet, but that will be our next adventure!