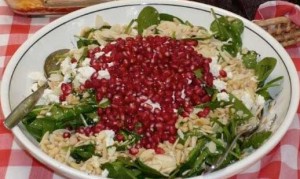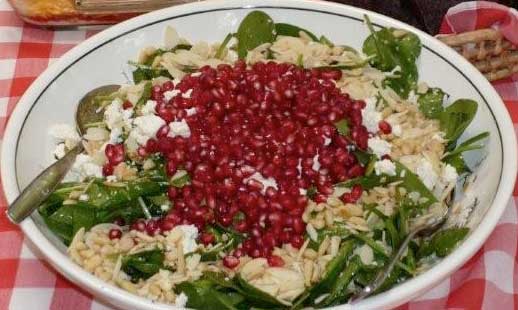 This is one of my articles, as a food writer, that was featured in the September Issue of a Canadian publication called Status Magazine – This is the perfect light summer recipe:
Food for Thought
By Sylvia A. Fox
Here's one that will surely impress.
Looks like you've slaved all day, yet it's ridiculously simple (we'll keep that our little secret).
It's fresh, slightly sweet, and oh, so good. Perfect for entertaining, yet such a family favourite, you'll find yourself making it all the time. This is now the honorary designated salad for our "immediate" family gathering (of 23 & counting) from now till – well, forever.
Easy & Elegant Pomegranate Salad
Main:
1 head romaine lettuce, washed & torn
1 bunch spinach, stems removed, washed & torn (can use all romaine if no spinach on hand)
Seeds of one pomegranate *
½ cup toasted pine nuts *
½ cup crumbled (or grated) feta cheese *
Dressing:
1/3 cup grapeseed oil *
1 tbsp maple vinegar (or red wine vinegar)
2 tbsp. maple syrup
1 tsp. Dijon mustard
½ tsp. oregano
Salt & freshly ground pepper
Directions:
Whiz (or Whisk) dressing ingredients together; store in refrigerator to let flavours blend.
A food processor or blender to whiz the dressing, makes a lovely creamy dressing.
Toss lettuce and spinach together in a large salad bowl. Toss with salad ingredients just before serving. Add feta, toasted pine nuts and pomegranate seeds on top. Serves 6.
Recipe can easily be doubled for large crowds. Or only cooking for 1 or 2? No problemo… just keep the dressing in the fridge, and toss in small batches one meal at a time.
* Substitutions & Secrets:
For most great chefs & cooks, they have knowledge behind the recipe, which determines what ingredients they choose, and why. It tends to be the secret to their success. I would love for you to know some of those secrets.
• Grapeseed oil: is available from most grocery stores now (Sobeys, Zehrs, even No Frills; Soleil D'or brand of grapeseed oil is stellar). It does not solidify when in the fridge (olive oil goes hard), and it has a super light flavour much like canola, minus the GMO. It's often seen on the chef cook-off type shows – they even use it to deep fry, as it has a high smoking point (nice with garlic-roasted rosemary potatoes, but that's for another day).
• How to peel a pomegranate: Some like to submerge in water, as shown on some of the literature. I've found I like to slice the top off, and stick my fingers inside, to divide in two, it can be cut in two, although juice will often spurt out. Then I like to peel around the outside half, almost like an orange. There seems to be "pockets" of seeds, and I do one pocket at a time. Then I wash the seeds off using a colander.
• Pine Nuts: Pine nuts are usually found in the baking isle of the store next to the walnuts. Almonds – blanched and slivered are an excellent substitution, if you didn't have any pine nuts in your cupboard.
• Feta cheese: not all are made equal, some are punchier, and others are more smooth and mellow. For this recipe, I like smooth and mellow – something straight from Greece…often found in the deli section (not the regular dairy section where you find milk) I like to grate the feta cheese, on a regular hand cheese grater.
• Maple Vinegar: A Canadian gourmet food company from Quebec called Orphee (La Maison Orphée) makes a fabulous maple vinegar. It can be found in health food stores, or higher end grocery stores. I like it because there's no 'twang'… no, I'm not going to sing you a country song at the moment… but again, no harm done, if you don't want to run out to the store, red wine vinegar works very well, in a pinch I've even mixed white wine vinegar and a quality aged balsamic vinegar, which was an interesting twist.