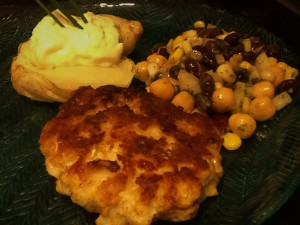 My mom makes this recipe for when she feels like something different than the usual fare. It's also for those days you don't want  to put the oven on, or need dinner-in-a-hurry.
It's a versatile recipe too, for crab cakes, just substitute faux crab which can be just as delicious nowadays as real crab, and if canned is even faster for prep. Egg is used as a binder thus you'll need to keep that in the recipe. Can make smaller for appetizers. Can substitute gluten free bread crumbs, or regular bread crumbs for the spelt breadcrumbs.
To make spelt breadcrumbs, just save your old crusts in the freezer and put them in the food processor when needed.
Recipe can be halved for smaller families (3 cakes instead of 6)
Fish Cakes with Cheese and Spelt Breadcrumbs
1 lb (500g) skinless filsh fillets – haddock thawed or fresh (trout, sole, cod, crab or faux crab)
3/4 cup shredded cheese – cheddar (or marble, jalapeno Monterey jack, or other cheese of choice)
1/2 cup dry spelt breadcrumbs (can save your crusts and put them in the food processor)
1/4 teaspoon each salt and pepper
1 egg
1 green onion, thinly sliced (or sweet spanish or vidalia – fine mince)
2 tsp of butter or frying oil such as grapeseed
Pat-dry the fish, finely chop and place in a medium bowl.
Add shredded cheese, spelt bbreadcrumbs, salt, pepper, egg and onion, mix well.
With damp hands, shape by heaping 1/3 cupfulls into 6 patties each about 1/2 inch (1cm thick)
In a large non-stick skillet (or cast iron pan) melt butter over medium heat. Cook patties turning once, for about 10 minutes or until golden and fish is opaque.
Can serve with tartar sauce or ranch dressing with a pinch of dill weed (or a 1/2 tsp of dill vinegar from the pickle bottle juice) added as dipping sauce.
Shown with the Phenominal Bean Salad with Fresh Basil and baked potato with sour cream and fresh chives
The side dish needs to be punchy – such as cole slaw, bean salad, ideally something vinegary, and french fries/chips are a good touch too.
Baked French Fries:
Slice potatoes in thin wedges, lightly coat in a bowl with grapeseed oil or other high heat oil – bake on stoneware in single layer at 425°F for approx 35min – until crispy (if using tin pan, turn once halfway through cooking)