No sacrificing on the height of yorkshires with this recipe using spelt. This  Yorkshire Pudding Recipe for roast beef is the one we use for our family, and is also great with roast chicken or turkey…. use mini pans to make appetizers stuffed with pot-roast or mini bbq chicken pot pies. Of course I'm usually in the middle of a function while making these, thus the hurried images LOL. Sorry, no lazy Saturday afternoons lately to be the food artist I know could be inside (or at least one hopes). At any rate hopefully it's proof that one can have spelt yorkshires that are skyrise high. (Used my stoneware muffin pan, but tin pans can be used as well)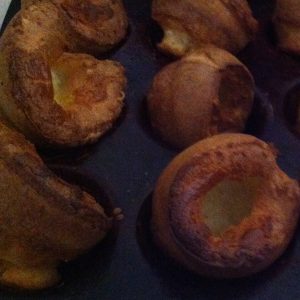 Yorkshire Pudding Recipe:
1 1/4 cup  all white (light) spelt flour
1/4 teaspoon salt
2 large eggs
1 cup milk
1 tablespoons melted butter
few drops Worcestershire sauce
In blender whiz up all liquid ingredients. Stop. Add flour and salt on top. Then whiz again approx 15 seconds or until frothy.
Let stand on counter 1 hr before using to let the natural leavening to activate.
Preheat oven to 450°F – place muffin tin in oven while pre-heating.
Remove muffin tin, and add 1/4 teaspoon grapeseed or safflower oil or beef / chicken fat to only 10 of muffin tins. Not more or the oil will spill over in the oven. Put back in oven till oil smokes – approx 1 – 2 min – keep a watch on it.
Remove muffin tin from oven and carefully pour 1/2 inch (not more) of yorkshire mixture into 10 of the selected muffin tins. Do not overfill.
Place back in oven with a regular cookie sheet below the muffin tins (or stoneware) in case of spillage.
Cook for 15 min on 450°F, then lower to 400°F for 15 min, then lower to 350°F for 10-15 min = 40 to 45 min total cooking time. they look done sooner, but will often deflate if not cooked long enough.
The secret is for the muffin tins to be hot, and the oil, prior to the filling being added.
Must keep a watch on these, make at your own risk.
Enjoy!
Mini's recipe – (recipe for minis coming soon – similar method cooking time approx 20min total – 10min at 450°F and then lowered to 10min at 350°F)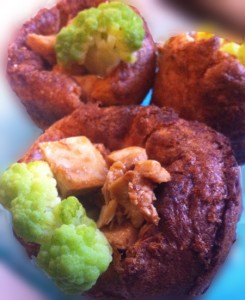 This is just our recipe, and is for entertainment purposes only.