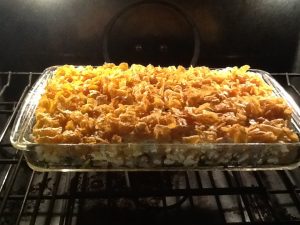 Casseroles seem to be all but non existant when it comes to gluten free…. but all this changes today! With a quick retooling of this farmhouse recipe (thank you Lady Dorothy Ann) some ingredients dinner is quickly at hand.
With this fast and easy recipe and take-out being so limited with gluten free folks… as long as you have a few ingredients on hand – this will be perfect (and it's delicious to boot!)
Not just a dinner dish, it's also great for breakfast, brunch or lunch too.
GF Chicken Brown Potato Casserole Recipe
main course – be sure to check for yourself all items are gluten free on the labels
900g or 32 oz  (small) bag gluten free hash browns (thawed) – in freezer section of grocery store (be sure to check bag as many have wheat as a coating)
1 can gluten free chicken soup concentrate (Pacific brand had one, Great Value Brand from Walmart is often gluten free if you read the label – but of course could always "may contain")
1 cup sour cream
2 cups shredded cheddar cheese (also check bag ingredients)
1 1/2 cups pre cooked diced chicken (or leftover turkey 1 large can drained canned chicken chunks – we like costco's)
2 Tablespoons dried onion flakes
1/2 cup green frozen peas
2 cups crushed gluten free cornflakes
1/4 cup melted margarine (or butter)
Preheat oven to 350°F  –  Grease 13 x 9″ baking dish
Combine all ingredients except cornflakes and margarine.
Spoon into baking dish.
Combine cornflakes & margarine
Sprinkle over potatoes mixture
Bake 45min or until bubbly – Serves 12
Hubby loves this one, as with the veggies & chunks of chicken its perfect comfort food for the gluten free.
We serve in squares like lasagna, it reheats beautifully