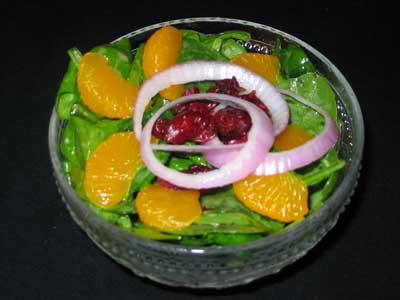 Mandarin Spinach Salad w/Dried Cranberries
1/2 300g bag baby spinach pre-washed in bucket
1/2 head romaine pre-washed (or 1 head if "hearts") just all spinach works too
1 can mandarin oranges, drained
1/4 cup red onion thinly sliced
1/4 cup craisins (dried cranberries work too, but not as sweet)
Renee's poppyseed dressing ( or Kraft creamy poppyseed) to taste, which is approx 1/2 cup – Renees has no milk ingredients, but it is creamy in texture!
TIP: to gauge quantity of dressing, when the salad is in the mixing bowl, pour the dressing around the in-side of the bowl.
That will be enough dressing for that salad.
Method:
combine spinach, romaine, onions and dressing
add red onions, mandarins and craisins
sprinkle of toasted almond slivers is nice on top
serve
From beginning to end this recipe clocked in at 5 min.
If using salad as a meal…
add pre-cooked Lillydale Brand chicken slices – it makes an amazing ultra-fast light dinner or lunch (the girls at work will be jealous) Just dress at the office… ahem… I mean, dress the salad at the office.
Alternate to mandarins:
1 ripe mango, julienned (use the all yellow mango)
1 ripe nectarine, sliced