Review: Review: VH Orange Ginger Sauce (stir fry sauce)
5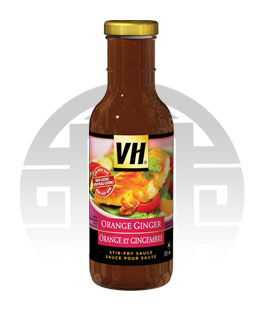 Minute Dinner – two pots, incredible results – Hubby gave it a 10/10 if that says anything – Faster than takeout

It's one of those days of doing errands a quick grocery shop, and getting home when dinner was supposed to have been at the table already… LOL … I'm sure you've had one of those days too…
My husband's family is a lover of all things ginger, so I thought this might be nice on something… I didn't know what just yet
Looking in the fridge I found a 1/2 can of Costco Canned Chicken (1/2 can is the size of 1 reg canned chicken breast), knowing there was minute rice in the cupboard – voila!
Orange Ginger Sauce Chicken & Rice Recipe:
For Two People: (or 1/2 the recipe for 1 Person)
Put 2 cups of water in the small pot to boil (pot#1) for the minute rice (follow minute rice instructions on package)
Dump the drained chicken in a cast iron sauce pot (pot#2) or thick bottomed pot.
Pour 3 or 4 tablespoons of VH Orange Ginger Sauce over-top of the chicken and let it caramelize (and stirred occasionally on medium high, while not breaking up the chicken chunks)
Put 2 cups minute rice in the boiling water, and turn the heat down (as per minute rice instructions – can use brown minute rice – takes longer about 10 min to cook)
stir chicken gently until the 5 min rice was done.
Let the rice sit for an additional 5 min, after cooking, to steam with the heat off.
Pour the ginger orange chicken overtop.
Serve it out of the pot! LOL.
Fab-u-lous!
It's very gingery, so if you're not a ginger fan, dial it back a bunch. I wasn't expecting to love it as much as I did, thus a very, very pleasant surprise.
If you're not a canned chicken fan (thus why I thought I wouldn't like it) – the ginger miraculously removes the canned chicken taste.
(With a food sensitivities hubby – takeout is not always a viable option)
Costco Canned Chicken Breast is about 1/2 the price and about twice the size of Canned Chicken Breast in the Regular Grocery Store, with no weird spices or additives.
Would this be even better with basmati or jasmine rice? Yes. Absolutely! When you've got the extra time to spare.