Two Bite Brownies Recipe
Everything you want in a two bite, that crispy/chewy combo.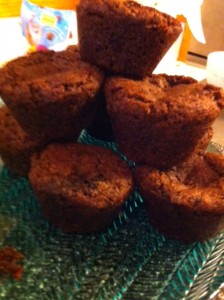 6 Tbsp cocoa camino cocoa powder
½ cup grapeseed oil
1 cup cane sugar
2 eggs
3/4c light spelt flour (OR ½ cup coconut flour + ¼ cup gluten free flour; or "normal" flour)
½ tsp baking powder
½ tsp salt
1 Tbsp vanilla
½ tbsp real unspiced rum (or 1 tsp clubhouse rum from grocery store)
Preheat oven – 350°F
Combine cocoa and oil, stir till well mixed. Add sugar, stir til well blended, add eggs, and stir till well blended.
In a separate bowl mix flour, baking powder and salt, add to chocolate mixture, stir until *just* mixed over-stirring will make it gluey.
Then add vanilla and rum, stir until just mixed.
Spoon into cooking oil sprayed mini-muffin pans, and cook 12min
Cool on wire rack for 10 min before popping them out – less than 10 min they will fall apart, more than 10 min they will stick to the pan and not come out (unless you use silcone pans and freeze them once cool and pop them out frozen LOL)
When cool, dust with icing sugar through a sieve
– or – use nutella as icing if you or any one else is not allergic
Makes approx 36 units
Recipe can be doubled
If you put it in a springform pan (cheesecake pan, let it cool then slightly soften some ice cream, put it on top spread it around then re-freeze, you can make your own icecream cake and save the $50 bucks from the store baking time for this variation is 30min)