Chocolate Zucchini Bread – This is one way to get the kiddies to eat their vegetables and being non the wiser!
I remember reading in one of the Schmecks cookbooks (by Edna Staebler wonderful Mennonite recipes!)* that there was no crime in the little community that she visited, only in August when people break into the cars only to fill it with zucchini (to get rid of the extra) LOL… where I come from too, that's pretty much how it was… only it was Baptist around those parts.
This is one of the firsts in the Zucchini Recipes line. I made this when we had a baseball bat sized zucchini. It was fresh picked and the rind was still soft – therefore we didn't bother to peel it, however, if peeled and finely shredded, no one could tell it was in this recipe.
This Zucchini Bread Recipe reminds me of the wonderful mayonnaise chocolate cake, that was so incredibly moist, and delicious…
Recipe can easily be doubled and cooked in two 9×13 pans
Zucchini Bread – Chocolate (like cake):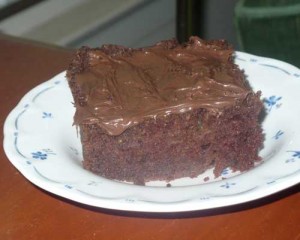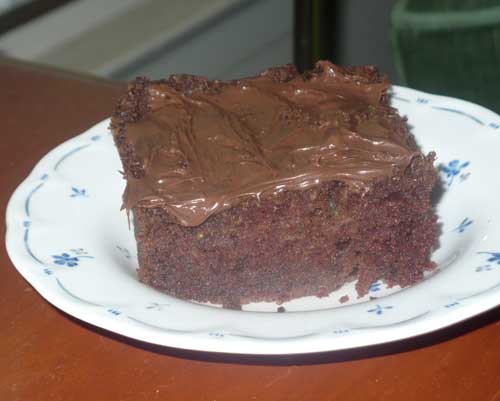 1 3/4 cups sugar
1/2 cup soft margarine or butter (we used earth balance sticks)
1/2 cup oil (we used grapeseed)
2 eggs
2 tablespoons vanilla
1 teaspoon Clubhouse rum (grocery store)
1/2 cup sour milk or sour cream (or mayo for dairy free option, Spectrum is a good option)
2 cups finely shredded zucchini
2 1/2 cups flour (we used light spelt flour, but all purpose will do fine)
4 tablespoons cocoa powder – good quality (we used *Camino's Cocoa – fabulous!)
1 teaspoon baking soda (we used Frontier soda – natural)
1/2 teaspoon salt
1/2 teaspoon cinnamon (optional)
Blend margarine and sugar, add eggs one at a time, then oil, vanilla and rum.
In separate bowl mix together all the dry ingredients – flour, cocoa powder, baking soda, salt, and cinnamon (if using).
Add to wet mix, alternating flour, and sour milk. Gently stir in zucchini. Do not over-stir. (stir until just mixed)
Pour into greased 9×13 pan.
optional – sprinkle with 1/2 cup chocolate chips before baking (or can ice later when cool – good without icing too)
Bake at 325°F for 40-50 min (check at the 40 minute mark). Toothpick inserted for testing purposes should come out clean. (do not leave the toothpick in while baking)
Let cool.
Great for picnics – uses up leftover zucchini in a family friendly way.
Icing Options:
-dusting with icing sugar (through a sieve)
-nutella or other hazelnut spread
-buttercream (can sprinkle with sweetened or toasted coconut)
-classic chocolate
Other options:
-Can also be made in a loaf pan
-as cupcakes
-mini cupcakes – which look awesome when iced with butter-cream frosting and dipped in coconut! Great for cocktail parties, or finger food events.
Make this with mayo yet instead of sour milk/cream – for a wheat free & dairy free option.
*Camino is a Canadian brand of organic and fair trade food products. Camino est une marque canadienne de produits alimentaires bios et équitables.