Ever wanted to make croissants, but thought they were too fussy? Well, now we've got a solution for you!
Bread Machine Crescent Rolls Croissant Recipe: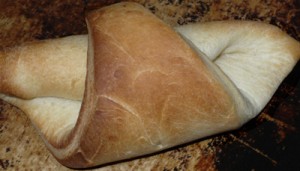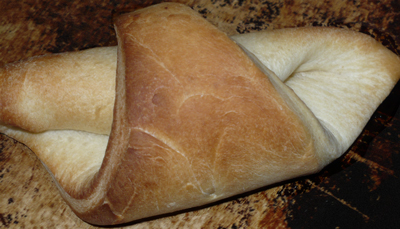 1/2 cup cream (10% or higher – the higher the fluffier)
2 eggs
1/4 cup butter- diced
3 cups bread flour (hard white flour)
3 tablespoons sugar
3/4 teaspoon salt
1 1/2 teaspoons bread machine yeast or SAF
2 tablespoons melted butter
Add all the ingredients except melted butter to the bread machine – select the dough cycle. (if you must pick a size, pick either 1 1/2lb or 2 lb)
Remove dough as soon as cycle is complete (don't let sit). Punch down, cover then let rest for 10 min. Divide the dougn in 2 sections. Roll each into a 12 in circle on a lightly floured surface (like pizza dough). Brush each circle iwith half the melted butter. Cut each circle into 8 wedges with a pizza cutter or sharp knife.
Loosely roll the wide end of each wedge toward the point. Place point side down 3 inches apart on lightly greased baking sheets or parchment. Cover and let rise in a warm place (like the oven with the light on) for 30 – 40 min, or until nearly doubled.
Bake at 350°F oven for 8-10 min or until golden – keep watching they turn brown quick sometimes, you don't want them too brown.
Remove from baking sheets; cool on wire racks.
Makes 16 crescent rolls. MMMMM
if you want to add a filling – place a small amount of chocolate chips, nutella hazelnut spread, or (ham &)cheese inside the wide end of each wedge,  before rolling the wedge to the point.
My FAV filling, is butter, brown sugar and cinnamon! Simple, yet scrumptious… it makes that bakery taste come through.