Tired of the kids bouncing off the walls at family functions?  This one's great for the kids -as they won't get high on the pop (and won't bounce off the walls at a family function!)
It's very tasty! All 25 of us at the function love this healthy party punch recipe, and we've taken it to our larger catered events, and we haven't found one yet who doesn't like it.
No Pop Party Punch Recipe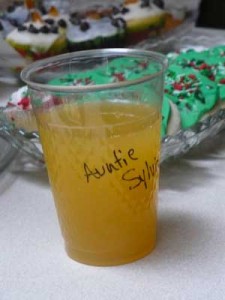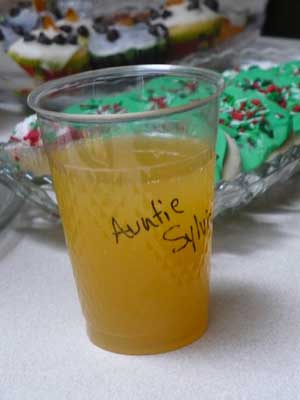 2 cans pineapple juice
1 can guava/orange punch or (or mango) – frozen concentrate
1 can peach frozen concentrate
1 can lemon/lime frozen concentrate
2 cans water (use one of the empty concentrate cans)
purchasing 100% juice concentrate is even better! No red dye and no extra sugar
2 cans of peach will do instead of peach/orange combo
label if using mango as a surprising amount of people are allergic
We use 1 bag frozen melons/fruit as the "ice" in the punch – looks gorgeous, yet so simple! (I never liked freezing those ice rings anyways)
Makes the whole event look very upscale.