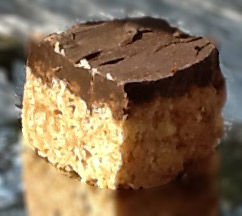 This Chocolate with Peanut Butter Squares Recipe is another family favourite… devoured at family functions… 3 batches last Sunday alone!
Super easy to make, no fussing, just throw a few ingredients in a pot, stir and then mix. Kids and hubbies like to help make this one.
Chocolate and Peanut Butter Bars Recipe:
For 8×8 pan: (we double it for a 9×13 pan)
1 cup brown sugar (or organic cane sugar ie Camino)
1/2 cup corn syrup (organic corn syrup is now avail via Wholesome Sweeteners)
1/2 cup peanut butter
1 teaspoon vanilla (or more)
1/2 teaspoon clubhouse rum (or more) (optional)
2 cups Crisp Rice Cereal (or Rice Krispies)
1 1/2 cups semi-sweet chocolate chips (Wal-mart Great Value brand is dairy-free) (if everyone can have milk, milk chocolate chips taste yummy as well)
Have a big heat resistant bowl ready.
Our Method:
Pour rice krispies into the big bowl. (you will need this ready, when needed)
In a sauce pot, dissolve the sugar, syrup and peanut butter on the stove, slowly on med heat, until dissolved (until sugar crystals are not crunchy anymore)  – Keep stirring by a qualified stir-er!!! or it will caramelize on the bottom and burn, do not leave pot unattended. Then add vanilla and rum. Stir.
Remove from heat.
Pour the hot mixture over the rice krispies in the big heat resistant bowl. Quickly "fold" (stir gently in an upward motion) the entire mixture.
Pat into a greased 8×8 broil-safe pan.
Pour chocolate chips evenly over surface.
Broil just until chocolate chips are glossy. Remove from oven immediately. (this means the chocolate is soft enough to spread)
With a table knife gently smooth out chocolate like icing a cake, be careful of the hot sides of the pan.
Cool.
Cut into small cubes.
Enjoy!