If you think of Gilligan's Island, and dessert, this is exactly what comes to mind.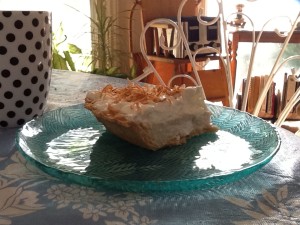 Somehow these ingredients always seem to be on hand. Perfect recipe when unexpected company drops by. We prefer the shortbread/cookie dough style crust as a graham cracker crust would overpower the delicate flavours.
I love pretty well everything coconut – this is our coconut cream pie recipe:
Coconut Cream Pie Recipe Serves 6
Pie Shell:
1 cup flour (all purpose or light spelt or gluten free flour)
1/2 cup butter or butter substitute (oil or shortening)
1/4 cup icing sugar
Blend well – pat into the bottom and sides of a 9″ pan (very thinly)
Bake at 350°F for 10-15min – don't let get too brown – should be light like shortbread.
(if using a glass pie plate, reduce heat by 25°F)
Let cool completely – or filling will not set
Filling:
¼ cup sugar (we like cane sugar)
2 heaping tablespoons cornstarch **
¼ teaspoon salt
2 cups approx  coconut milk (we like Grace's 400ml)
1 1/2 teaspoons vanilla
1 teaspoon clubhouse rum (grocery store rum)
1 cups sweetened shredded coconut toasted coconut
2 cups already whipped cream (or 1 can, or soy whipped cream in a can for dairy free-ers; or 1 cup 250ml whipping cream add 2 tbsp sugar and 1 tsp of vanilla or amaretto)
Blend sugar, cornstarch and salt in glass bowl.  Add milk and cook or microwave for 5 -7 min on high.  Stir every 2 min – till thick and clear-if it's left in longer intervals it will not set. Add vanilla, rum & stir.  Add coconut & stir. Pour over still cooked and cooled pie shell. Filling will thicken more as it cools.
Once pie is completely cooled – top with generous amounts of whipped cream, and sprinkle the coconut on top of that – just like you find in an old fashioned diner – and refrigerate. (cover with saran wrap or plastic food wrap)
**gluten free-ers make sure your cornstarch doesn't have wheat in it or other wonky additives – it can be in the oddest ingredients like soy sauce and the like
Variations:
If you like bananas, place bananas in the bottom of the pre-cooked pie shell and pour pudding overtop. (or peaches) fresh raspberries on top make a nice garnish.
If you bought a pre-cooked pie shell – don't re-warm it, just pour the hot filling over it, let the whole thing cool and then add the whipped cream on top and sprinkle coconut over the whipped cream.
Forgo the crust and pour into ramekins or fruit cups 🙂
This recipe is AMAZING when used as a pudding and blended with banana pudding… the hubby snatched the trial version out of my hand and subsequently inhaled it! LOL