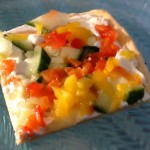 Hands down – gorgeous appetizer so incredibly simple – but looks like you've slaved all day.
This is our default recipe for all parties that require appetizers, especially bridal and baby showers.
Super Easy Version:
Cool Veggie Appi Recipe / hors d'oeuvres
Ingredients:
On cookie sheet, spray with non-stick spray or line with parchment paper, and roll out the refrigerated crescent dough to make one big flat base. Bake as directed on package. Remove from oven, cool.
Mix together:1 pkg spreadable (whipped) Cream Cheese, 1 teaspoon Italian Seasoning and 1 clove minced garlic – mix cream cheese with 1 Tablespoon of mayo to help it mix easier)* (we prefer the dill option below)
Spread over cooled base.
Finely chop topping vegetables –  enough to cover the whole surface with some of each on : cucumbers, broccoli (into bits), red pepper, carrots
Sprinkle veggies on top of cream cheese in the same order. We chop the carrots, but shredding is also an option.
Gently pat down the veggies into the cream cheese with the palms of your hands or by pressing a cutting board on to the surface (so the toppings don't fall off on the floor when being eaten by guests).
Use pizza cutter to cut into appetizer (two bite) size squares. approx 2 inches square ( approx the length of your thumb – but don't cut your thumb! )
Voila!  Makes about 12-15 squares
 Substitution:
1/2 teaspoon dill weed (green fronds) instead of Italian seasoning and 1/2 teaspoon dry minced onion instead of garlic*

yellow peppers instead of broccoli (as shown in picture)
More Advanced Version:
For those who like a less greasy base, and prefer to make their own – here's two options
1) substitute Bread Machine Crescent Rolls Croissant Recipe for refrigerated crescent rolls (ie: Pillsbury)
or
2) substitute Bread Machine Garlic Bread Pizza Dough Recipe (omit the garlic and Italian seasoning in recipe & use regular cream cheese – not herbed) – recipe coming soon… stay tuned!
Most recently we used this at a 40th birthday cocktail party… with rave reviews!