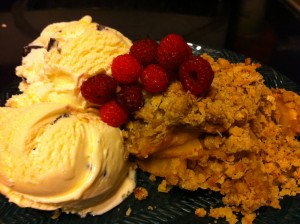 Here's the apple crisp recipe I made at the farm, it's a combo of mom's & mine as her recipe was at the farm and I didn't have mine with me… but remembered a few ingredients…
I probably doubled the recipe but here's the single…
Farmhouse Apple Crisp Recipe:
1/3 cup melted organic butter (or very very soft will do – we use Alliston Creamery's from Alliston, Ontario)* can use same quantity of grapeseed oil in a pinch, but it won't get as golden the same
2/3 cup organic oats (from Oak Manor in London area, Ontario)
1 cup organic brown sugar (we used the organic brown cane sugar by Coco Camino– gives it a caramel apple flavour; can use cane sugar though, grain process or wholesome sweeteners cane sugar is good as well)
1/3 cup organic spelt flour (Ian's the one they grow at the farm – gives it a nice nutty flavour)
2 to 3 teaspoons vanilla
Good dash of cinnamon
Dash of rum (optional)
Pinch salt
Mix together with a fork.
Pour over peeled sliced apples enough to generously cover in about 2 layers a 8×8 deep pan (from the apples at the farm)
Bake at 375°F  40 min
It's odd, but it usually needs the whole 40 min – but if your oven runs hot,  check it at 35min – always a good idea at any rate.
Double the recipe – use a 9×13 deep dish pan  – cooks in the same amount of time.
At home I often add 1 teaspoon clubhouse rum – it warms up the flavour (good in oatmeal cookies too!! & Carrot cake & banana muffins … mmm)
Can use Earth Balance Sticks in place of the butter
This makes great pie topping, instead of making a top crust. Especially wonderful for pear pie… (makes a pear strudel pie!!)
Image added Aug 14 2015 – as we didn't take one at the time of the orig post.