Easy Baked Pasta
We made this one for a catered sit down dinner for 40 – (70th b-day party)
This easy cheese baked pasta dish is very versatile, and can be made using the regular recipe for 6 – or doubled, tripled, quadrupled, etc as necessary. (we 6x'd it for the party)
Easy Baked Pasta Dish Recipe: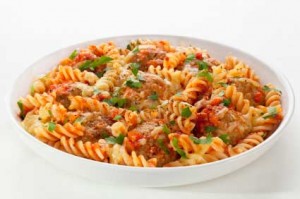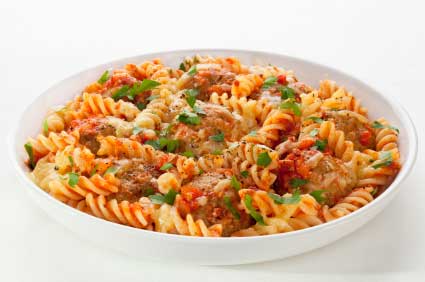 12 oz rotini pasta pkg – (approx 340g – roughly 2-3 cups uncooked – CAN use corn noodles)
1 lb ground beef
2 large onions diced or sliced
2 garlic cloves pressed
2 cups zucchini coarsely chopped (or grated)
1 jar garlicky pasta sauce of your choice (approx 750g or 3 cups of your own)
1 Tablespoon fresh basil (must be fresh – this is the key to the whole thing)
1/2 cup fresh parmesan cheese grated
2 cups shredded mozarella cheese (or marble cheese or rice cheese ~ Italian style )
Boil the water for the pasta
Add the pasta & cook el-dente (not too much -you want it a little under done)
In the meantime…while waiting for the water to boil…
In a deep sauce pot:
Saute- onions & garlic, place in separate bowl
brown the beef – drain off any fat if necessary, once browned add the garlic,onions, zucchini, pasta sauce, basil, and stir on med heat till bubbling and hot – then turn off the heat.
In a separate bowl – mix the cheeses (the Parmesan will help the mozzarella spread farther as it won't stick together as much)
Method:
In a bakeware pan (9×9) layer:
1/3 of the sauce mix
then 1/2 the pasta
then 1/3 of the cheese
repeat
Bake at 375 for 45 min (or bake 1 hr if from refrigerator – put cold pasta in a cold oven and let them heat up together – start timing once the oven gets up to temperature) Tent the foil while cooking – and remove for last 10 min to get brown
It's the Parmesan helps this to get nice and golden brown.
Can make ahead and put in refrig until needed. Can be frozen and reheated like a frozen lasagna.
We served it with carrot salad, cole slaw, fresh buns and a beautiful garden salad with red cabbage in it for colour.
PS: For the party we put 3 batches worth in each tin turkey tray – it took a little longer to cook at 1 1/2 hrs or so.
For Vegetarian option – omit the beef – add 1 to 2 cups sautéed  mushrooms to taste