Broccoli Salad with Bacon and Almond Slivers. This is a great salad recipe to get fresh, raw broccoli down the hatch, and do it happily! If you like sweet n salty, this is for you.
Broccoli Salad Recipe with Almond Slivers:
4-5 cups (1 large bunch – or 2 small heads) broccoli cut in small pieces (peel the stalk and chop it too in small dice)
1 cup Thompson raisins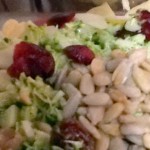 1/4 cup diced red onion (or sweet vidalia or spanish onion)
3 to 4 tablespoons dried real bacon (real bacon bits)
1 cup slivered almonds, toasted
1/4 cup sunflower seeds (optional)
1 cup fresh chopped walnuts or pecans (optional)
1/4 cup grated white extra old cheese (optional)
Combine all ingredients above in medium sized bowl.
Dressing:
3 to 4 tablespoons sugar (or maple syrup)
1/2 cup mayonnaise
1 tablespoon apple cider vinegar
Whisk dressing ingredients together – pour over mixture in bowl. Stir.
Refrigerate at least 2 hrs to let flavour blend.
Great as a side dish!
For a meal:
add fully cooked chicken pieces, such as Lilydale brand, or Costco or PC's Canned Chicken White Meat.
Variations:
For vegetarian option:
omit the bacon, cheese, use egg-less mayonnaise (Spectrum now makes).
Keep all the nuts, as it provides the "meaty" flavour, add a pinch of salt.
Let marinate overnight or for at least 2 hrs.
We find it's perfect without the cheese, but is nice for something a little different.
This is one of our favourites!