Yes, you read it right … Wheat Free, Dairy Free, Almost Carb Free Brownies Recipe that taste good!
Since the hubster can't have pretty much any of those things, we came up with a solution:
We tweaked our favourite perfect brownie recipe to make one he can now eat. Since a friend of ours can't have any grain products, we came up with a corn flour version. (Some "carbs" plans don't consider corn to be a carb, other stricter ones do)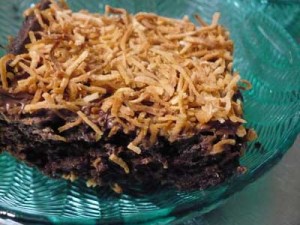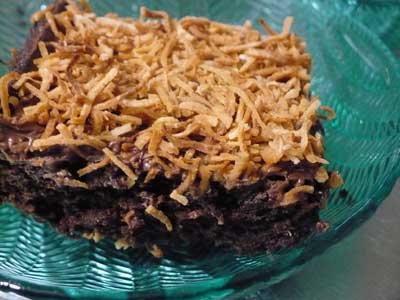 Wheat Free Brownies Recipe:
1 cup Becel  brand non-hydrogenated margarine or grapeseed oil (or butter, or earth balance sticks)
1/2 cup cocoa powder (coco camino brand is excellent)
1 1/2 cups cane sugar (or brown sugar)
3 eggs
1 teaspoon vanilla
1 teaspoon clubhouse rum
3/4 teaspoon baking powder
3/4 cup corn flour (almond flour, or GF flour)
3/4 cup chopped walnuts (optional) or skor bar pieces
Thoroughly beat oil & cocoa powder until completely blended, add sugar, blend well, add eggs, vanilla and clubhouse rum, beat til creamy. Add corn flour and baking powder and nuts. Stir til just mixed.  Pour into greased 8x8x2 pan. Bake in slow oven 325°F oven for 35 min, until toothpick inserted comes out clean.
Frosting's not usually needed. Can use nutella style spread, but is best with maybe just a bit of powdered sugar sprinkled on top by using a sieve to powder evenly. Toasted coconut is a great additional topping – as seen in the picture.