We've all heard of apple crisp, but pear pie being my favourite of the pear recipes, pear crisp is just as good and easier than pear tarts – although these could be placed in tart tins, cooked, cooled & frozen for another day…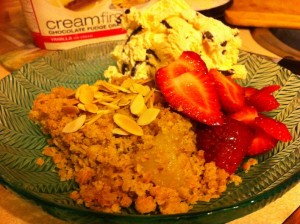 Pear Crisp Recipe:
1/3 cup melted organic butter (or very very soft will do – we use Alliston Creamery's from Alliston, Ontario, or Earth Balance Sticks, or grapeseed oil for vegan)
2/3 cup organic oats (from Oak Manor in London area, Ontario)
1 cup organic brown sugar (we used the organic brown cane sugar by Camino– gives it a caramel apple flavour; can use cane sugar though)
1/3 cup organic spelt flour (Ian's the one they grow at the farm – gives it a nice nutty flavour, or oat flour, or for gluten free – quinoa flour)
2 to 3 teaspoons vanilla
1 to 2 teaspoons clubhouse rum or amaretto
Dash of cinnamon (we use Frontier's organic korintje cinnamon – the kind your grampa had as a kid)
Dash fresh ground nutmeg
Pinch salt
Mix together with a fork.
Pour over peeled sliced very ripe pears, enough to generously cover in about 2 layers a 8×8 deep pan – approx 6 – 9 pears (from the pears grown on our property)
Bake at 375°F  20-30 min – until crisp is, well… crispy – if your pears are very ripe, if not, you may need longer.
Pear Pie: make just as you would apple pie, pull back the cinnamon to 1/2 and add 1/8 teaspoon nutmeg & 1 teaspoon clubhouse rum.