A summer frozen dessert designed for company as it serves 15! Won't go back to the ice cream cake after having this scrumptious mousse style frozen square. Can be made ahead of time and frozen, using either fresh or frozen raspberries. It looks upscale, without all the fuss. You'll have to bring it to every event though, from now till… well ever.
Raspberry Freeze: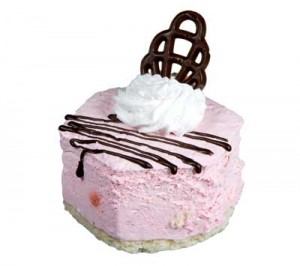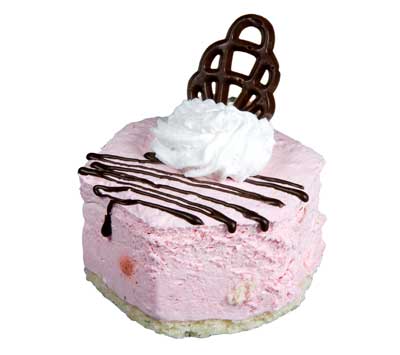 (like frozen mousse, with a cookie crust, cut into squares or triangles)
note: pull your 2 eggs out of the fridge so the whites will be room temp for using in the filling.
And whip the whip cream ahead of time too & put in fridge, clean out the mixing bowl well, though, as egg whites won't whip in a bowl that has any residue of fat.
Crust:
3/4c butter-melted
1 1/2 cups all purpose flour
1/2 cup brown sugar
(3/4c chopped nuts, optional…I don't use them)
Stir flour into melted butter, add sugar, stir till looks like crumbs (not too big – smaller than peas)
Spread over large ungreased baking pan (could be 9×13 pan, and then put topping over top… or if making the round one, use a cookie sheet then put the crumbs into spring form pan after cooled)
Bake at 375 degrees F 15-20 min Stirring twice.
Remove, break up any chunks… scatter 2/3 crumbs over 9×13 pan (or into spring form pan) reserve the remaining 1/3 crumbs for the topping.
Filling:
2 egg whites room temp
3/4 c sugar
4 cups (15oz) frozen but partially thawed raspberries (or strawberries)
2 Tablespoons  Freshly squeezed lemon juice (if using juice from the bottle only use 1Tablespoon)
1 cup (250ml) whipping cream…  (whip it ahead of time)
Beat whites first till meringue like, add everything else but the whipped cream.
Beat on high till thickened and volume increases (you'll see it fluff up after two or so minutes by your Kitchenaid or Kenwood mixer… or 10 min if by hand)
then fold in the whipped cream by spatula just enough that you don't see any white of the whipped cream.
Pour on top of the 2/3 bread crumbs in 9×13 pan (or spring form pan) sprinkle rest of crumbs on top.
Freeze.
Can be made even a week ahead of time (just put saran over the top) & freeze
thaw maybe 5 min before serving so it can be cut with a sharp knife.
Notes: We've also made this in the small cheesecake pans approx 5″ in diameter, it's nice if you want a few smaller desserts on hand instead of a big huge one.
If you're quick, squares can also be popped out of the pan and into large Tupperware style containers with waxed paper between and re-frozen if using for a catered event for quick plating.
Drizzle chocolate over the bottom of the plate, slice into triangles and add some fresh raspberries for garnish.
Perfect for 50th anniversary celebration, summer party, and corporate events, even just for the family, very versatile and all ages request it again and again.
the 9×13 version serves 15
Dat's it!