About suppertime on my way to the compost bin, and mumbling under my breath, I turned to see the rhubarb patch, the  leaves being big enough to rap up a newborn, which was filling out nicely and ready to pick. Bing! oooh rhubarb crisp!
The rhubarb leaves make good insect repellent, and were place in the compost bin, the rest comes up to the house; if it wasn't already suppertime, I would have made a rhubarb pie.
Since my sister-in-law Karen has an awesome bluebarb jam recipe, we saw some fresh blueberries in the fridge and tossed them in…
Blueberry Rhubarb Crisp Recipe: (Blubarb Crisp)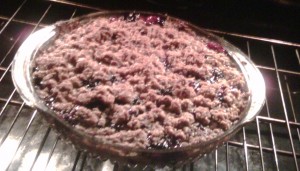 Filling:
4 cups rhubarb cut in half inch – 3/4 inch pieces
1 cup cane sugar (or mix of 1/2 white, 1/2 brown)
1/4 cup flour or cornstarch (light spelt flour can be substituted)
pinch of salt
1 cup fresh blueberries (or 6-8oz pkg – the regular small package) – for frozen blueberries – see extra instructions.
Combine all but the fresh blueberries, stir well until coated, add blueberries and gently stir. If using frozen blueberries – combine all at once with the flour.
Pour into pie plate – add crumble topping
Crisp crumble streusel topping recipe:
1/2 cup butter or marg
3/4 to 1 cup cane sugar (or brown sugar)
1/3 cup all purpose flour (or light spelt or white corn flour)
2/3 cup oats (quick oats preferred but rolled oats ok)
pinch of salt
1 teaspoon vanilla
1 teaspoon clubhouse rum (imitation)
Mix all together, pour over filling – evenly coated
Bake at 375°F for approx 40 min – keep checking
Can be made night ahead and re-heated next day
The recipe is the same for rhubarb pie, except, add a pastry crust, still use the crumble for the top. No-Roll Easy Pastry (pat in) Pie Crust Recipe makes 1 shell
And if you don't want to be stuck eating a whole pie – cook it, cool it, slice it – then place in the freezer single layer in a durable container. Then, just pull out as many slices as guests – put in the oven at 250°F, or the warm setting, before dinner, and by dessert, they'll be re-heated.
This works great if multiple different pies are sliced and frozen along the way – then pull out a variety and each guest can pick the one they like.
That's what we do, anyways.