This is a Canadian fusion variation on the traditional saffron jewel rice of the middle east, it dials back the warm spices like cardamom and allspice and adds in vegetables such as grated zucchini or yellow squash.
Might add the element of surprise to the "typical potluck/picnic" as it goes well on it's own for the vegetarians, GF's (gluten free's) and compliments nicely most meats. You'll want to label your dish that it includes nuts for buffet purposes, or omit the nuts for kid events.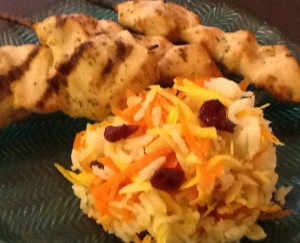 I kept it simple by using food grade essential oils of lemon and orange instead of scrubbing and zesting – keep all the flavour with none of the hassle. This also works well for lemon breads and that hint of orange in the carrot cake… oh yes.
I also took a nod or pointers rather from the Thai sector, with the hot/cold cooked/raw combo of almost uncooked vegetables in a hot dish. Adding interesting multi dimensional textural nuances to the dish.
I used leftover basmati rice (from this weekend's family reunion festivities)
We recommend serving this with grilled chicken slovaki – to round out the cultural world fair in this dish LOL, and because it's a great pairing.
For a quick dinner and not in the mood to make your own chicken-on-a-stick as we call it around here – we like Costco's West End Cuisine's pre-cooked Mediterranean Chicken Skewers – heat & eat – just microwave 2min and voila, insta-dinner!
Fragrant Saffron Jewel Rice Fusion
3 cups already cooked basmati or jasmine rice (Indian rice)
1 cup grated yellow or green squash (or blend of both, de-seeded)
1 cup grated carrot
3 Tablespoons cane sugar (or white sugar)
1 teaspoon saffron threads
1/2 teaspoon salt (we use pink salt)
1/2 cup dried cranberries (or bayberries)
1/2 cup toasted slivered or sliced almonds
1/2 cup pistachios
7 drops food grade essential oil of orange (or 1/2 tablespoon orange zest)
7 drops food grade essential oil of lemon (or 1/2 tablespoon lemon zest)
Combine rice, grated vegetables, saffron and dried cranberries, sugar and salt in a microwave safe bowl – microwave on high until rice is hot – approx 3 min
Add remaining ingredients, toss and serve.
If you cook your rice at the time of this recipe, (ie not using leftovers):
Cook rice, adding saffron to the water at the same time as rice, until ready – using directions on rice packet. Add grated vegetables and dried cranberries, sugar to the top, let steam 5 min. Fluff with a fork while gently stirring. Transfer to serving dish – add remaining ingredients, toss and serve.