Spelt Bread Recipe for Bread Machine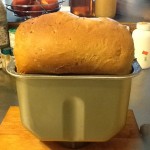 In 2hrs 46min we get beautiful loaves that rise above the top of the pan!
1 cup lukewarm water (be exact)
1 egg – room temperature
1 tablespoon yeast -sprinkle over water (SAF brand, or Fleishman's "Rapid Rise Bread Machine" Yeast – VERY important)
2 tablespoons cane sugar (or brown sugar)
1 tablespoon molasses (we use wholesome sweetener's brand)
2 tablespoons honey
4 cups white spelt flour (light spelt flour; whole spelt maybe substituted upto 1 cup or so)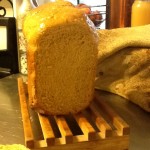 1/4 cup quick oats
3 tablespoons becel margarine or butter
2 teaspoons sea salt
Put ingredients in bread machine pan in order listed.
Use the "light crust" 2lb  basic white cycle (& rapid cycle if avail)
Spelt doesn't like to be over beaten or over baked.
Most of our ingredients are organic, my dad is a beekeeper, we use his honey…
the spelt we get from a local farmer just north of Toronto millsmills.ca bagged or bulk is avail too (so are spelt berries/kernels).
Whole spelt will most likely not rise as high. I would suggest a mix. The amount of protein in the batch of flour itself will also be a factor in how high the bread will rise as well.
Organic oats are also fairly local oakmanorfarms.ca – London Ontario way.