It's true, although fluffy and GF usually never go together, they do today, with this fluffy gluten free pancakes recipe! The hubby wanted pancakes last Sunday (crepes actually) and all the mixes I had been trying we all used up or thrown out – you GF'ers know what I mean. None were out of the park, I had made reg pancakes since a kid, so I wung it with GF flour, and it worked.
I had plate pictures but they were half eaten before I could get the camera to it, thus this one is from the griddle…
Here it is: (can be doubled)
Fluffy Gluten Free Pancakes Recipe: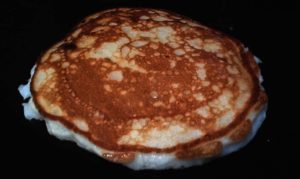 3/4 cup gluten free flour (no pea or beet fiber)
1/2 tsp baking soda
1/2 tsp baking powder
1/8 tsp salt
1/3 cup cane sugar
1 egg + milk to fill to 1 cup
mix powder together
mix wet together
add wet to dry
add milk a little at a time if batter too thick
for crepes, thin batter even more and spread out once poured onto the griddle.