Delicious is a common adjective we hear from this gluten free carrot cake recipe. Not for the novice, but if you're good at keeping focused then you can likely do this. The squares in a 13×15″ pan are the easiest, but a scrumptious 3 layer gorgeous gluten free carrot cake is irresistible even to the non-GF-er which is a relief to only have to make 1 dessert for all! For nut allergies or making for a crowd, leave out the almonds, as they are visually undetectable, to be safe.
Gluten Free Carrot Cake Recipe (Squares and 3 Layer)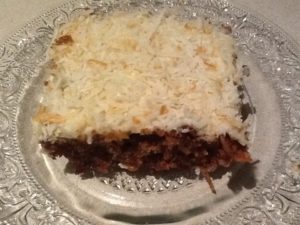 1 1/2 – 2 cups Gluten Free flour (start with 1.5 and add more at end if it looks too runny as GF flours vary in consistency)
2 teaspoons baking soda
1 teaspoon baking powder
1 teaspoon salt
3 teaspoons ground cinnamon
1/2 teaspoon ground nutmeg
1/4 teaspoon ginger
1/8 teaspoon ground cloves
2 1/2 cups cane sugar
1 cup buttermilk
3/4 cups melted butter (needed for flavour to offset GF flour taste)
4 eggs
2 teaspoons vanilla
1 teaspoon clubhouse rum extract (grocery store)
1 1/4 pounds grated carrots
1 8oz can crushed pineapple well drained
 1 cup slivered almonds or chopped pecans (optional)
1 cup flaked coconut
 1 cup golden raisins (must be golden, reg will stain green)
Cream cheese frosting:
250 g cream cheese softened
1/2 cup butter or marg softened
4 cups powdered sugar
1 teaspoon vanilla
1 cup toasted coconut for topping
Combine flour, baking soda, baking powder, salt, and spices set aside.
Next in a very large bowl, combine sugar and melted butter, add eggs one at a time until well blended. Add the dry ingredients that were previously combined and set aside, stir gently only until just blended. Add buttermilk, vanilla and rum extract, stir until just blended. Add carrots, pineapple, almonds, coconut, stir until just blended. Add raisins. Stir and pour into well greased 13×15 bar pan  bake for 40-50 min at 350F (as different ovens vary in cooking time, make sure pick inserted in middle comes out clean)
(alternate: or greased, floured and waxed papered for 3 quantity 8" rounds – bake for 30-35min at 350F, let sit for 10min after baking, peel off waxed paper let cool)
Cream cheese frosting:
Combine butter and cream cheese in large mixing bowl, beat until light and fluffy, Add remaining ingredients.
After frosting the cake, top with toasted coconut.
Refrigerate cake before serving. Gets better with age – as flavours meld overnight.