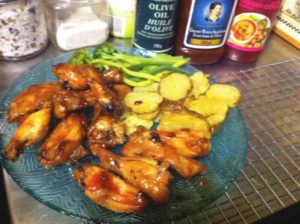 Yes you heard right and they are every bit as good, without the added deep fried fat. Or, like us who have family members that need to know every ingredient, we can't always count on the good folks at the restaurant to be forthcoming (or accurate) with what is in the food. If we make it ourselves, we know for sure! You can save some dough and calories by doing it yourself.
Preheat oven to 400 degrees F (375 degrees F for a toaster oven)
lightly coat wings with rice flour (optional – helps sauces stick later on, adds extra crispiness)
Spray or lightly coat stoneware pan with grapeseed or other high heat oil
place thawed or fresh wings on sheet in a single layer
spray surface of wings lightly with grapeseed oil (or high heat oil, or brush on oil)
bake for 45 min – 1 hour until completely cooked and not sinewy (depends on size of wings)
Carefully transfer wings to a stainless steel bowl, and add sauce to desired amount, and coat evenly. (Can make your own – we will have a BBQ sauce added in the near future)  We also like Dianna's Gourmet Western Smokehouse, Frank's Sweet Chili, Teriyaki Glaze, or even VH cherry sauce is delicious on wings!
Return to oven to caramelize (optional) for approx 5-10 min – keep watching as the sugar in the sauce can burn easily.
All the flavour without all the calories of traditionally fried wings!
If you like these, you'll like our baked fries from fresh potatoes… you may never go back to deep fried fries again … plus it's so easy, most people wish they knew of this sooner!
Always be close by to an oven that is really hot, with items such as these, it's just good sense 🙂