This is a super easy nachos recipe, with restaurant quality melted cheese stacked high, ground beef, fresh tomatoes and green onion… mmm… this is how we do it…
Easy Nachos Recipe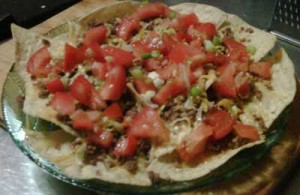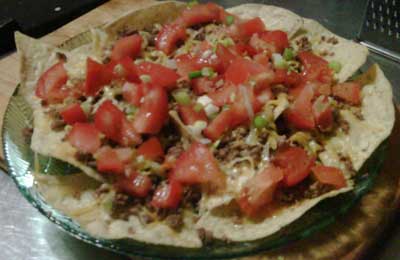 Ingredients:
1 cup ground beef browned with paprika based seasoning like Lawry's, add any hot sauce at this point if that's a preference (we make our own inhouse)
1 to 2 cups shredded marble cheese (cheddar & mozzarella mixed – depends on how cheesy one likes it, see dairy free below)
1 fresh tomato diced (may want to season with herb salt)
2 green onions washed and sliced thin – green ends too if they're nice and fresh
1/2 large bag tostitoes chips (nacho chips)- plain or lime or multigrain (the organic yellow corn have the most flavour)
Make sure the beef is browned and seasoned, tomatoes are diced and green onions sliced before proceeding.
Select a large platter (or 4 individual plates) that is microwave safe and that will fit (can do this under the broiler with oven-safe cookie sheet-must STAY with it though, can't walk away)
Microwave Method:
Place chips single layer, but tight together on the platter
Sprinkle cheese overtop to one's liking and microwave for 30 – 45+ seconds – just until cheese melts but chips don't burn
Remove platter from microwave and immediately top with cooked ground beef (if one wants another nacho layer, repeat these above steps)
Quickly add the diced tomatoes and green onions before the cheese "sets". This will hold the toppings in place while eating.
Enjoy!
Options:
We pre-brown our ground beef, then cool & place in resealable bags – flatten it out so that it can be used in sections. This way, nachos are always available for an easy dinner or snack.
BBQ chicken is also nice, can use leftovers from a rotisserie chicken at the store or even holiday turkey leftovers
Dairy Free – use rice mozzarella style cheese as it melts nicely – but use sparingly. We've used the one by Galaxy Nutritional Foods "Italian Flavour".