Review: Swiss Chalet West Coast Salad
Was freakin awesome! At least mine was…
Fresh mixed lettuce greens (I think I saw beet tops in there too), red onion strips, and mandarin orange slice tossed in Renee's Balsamic Vinaigrette. Topped with a medley of dried fruits, mixed nuts, Feta cheese and a sliced breast of our famous Rotisserie Chicken, glazed in a Spring Herb Dressing.
I actually gave my meat to the hubby and had a single fish stick with it, from a fellow diner's fish n chip order. 🙂
I'm not typically an "entree salad" type of order-er, however I was pleasantly surprised at this. Not to mention it came in something the size of a serving bowl!
If you were looking to make this yourself, don't live in Canada, or it's past 11pm and Swiss Chalet is closed here's a similar recipe:
West Coast Salad Recipe – Swiss Chalet inspired: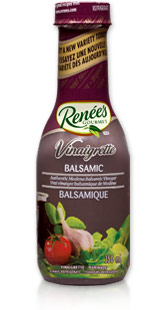 Renee's Balsamic Vinaigrette
Excellent mixed greens with baby romaine, baby spinach, beet leaves etc.
Goat Cheese (or a really mild feta)
mandarin orange slices, fresh (canned will work in a pinch)
red onion sliced in thin strips
cashews
peanuts
toasted sunflower seeds
rasins
craisins (dried cranberries)
pepitoes (pumkin seeds, shell removed)
pre-cooked chicken – or hot rotisserie chicken from the grocery store
Now I think you could luck out and get a trail mix with all those nuts and raisins in it… simpler than buying one of everything